Tag & Stick Is The Easiest Roof Underlayment For Steep Roofs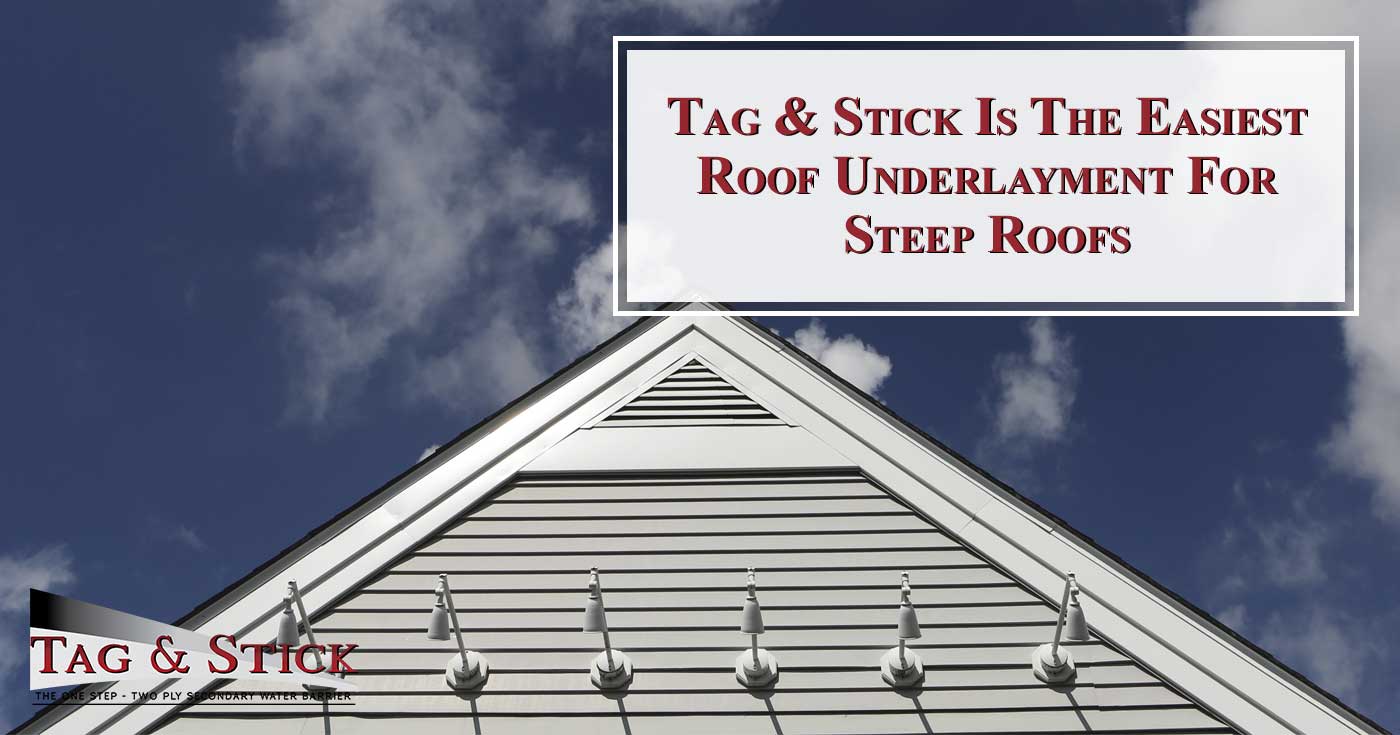 Reading Time:
3
minutes
Roof underlayment on steep roofs can be a challenging job. Mostly because it requires a two-step application process, which wastes time and requires extra labor and materials. Tag & Stick is unique as it's a two-ply underlayment that adheres in easy one application. This is especially useful for steep roofs which are hard to access. Let's have a look at why Tag & Stick is the easiest roof underlayment for steep roofs.
Revolutionary Design
Tag & Stick's single application underlayment system is different from conventional underlayment's which require a two-step process of first laying a base sheet and then coming back at a later stage to install the cap sheet. Even with a single application process, the Tag & Stick system doesn't compromise on quality and consists of a top and bottom layer of 60 and 55 mils respectively.
These layers combined offer a competitively thin underlayment of 115 mils. Even with its unique thinness, the Tag & Stick underlayment system offers an effective water-resistant two-ply barrier. It's installed faster than other underlayment systems and will shave hours off of labor costs.
A Joy For Steep Roofs
Steep roofs are tricky to access due to their pitch. Accessibility requires a thought-through process and can sometimes include scaffolding and additional harnessing. This is why it's a challenge for conventional underlayment techniques that require a two-step adhesion process. Not only does this require an additional site visit, but it also requires extra materials and labor costs.
The benefit of Tag & Stick is that the first underlayment sheet is attached to the deck mechanically. A second underlayment sheet is then attached to the first sheet. The bonding of these sheets forms a pressure-sensitive adhesive holds them tightly together. This effective one-step installation technique prevents the need for a second visit onto the site which is why it's the answer for steep roofs. The Tag & Stick installation method also doesn't require any deck priming or back nailing cap sheets and requires a smaller installation team.
Versatile For Steep Roofs
Tag & Stick is incredibly versatile and can be applied to several types of steep slope roofing. These include tile, shingle, slate, metal, or any other steep-sloped roof that requires an underlayment. It can be installed with existing flashings and can easily be removed if a re-roofing project is ever required. It won't cause any damage to sheathing and will save you time and money in the replacement process.
Incredibly Durable
Tag & Stick is hard-wearing due to its composition and thickness. It's the combination of reinforced fiberglass and asphalt flux that makes it so tough. An additional benefit is that Tag & Stick can be left in the dry stage for months without leaking if need be. It's resistant to foot traffic even in its dry stage. When it comes to steep roof installs, it's good to have peace of mind in the standards of a product.
Tag & Stick is the only underlayment system that meets all of the South Florida Building Code requirements which includes severe wind uplift code requirements.
Safe For Steep Roofs
The Tag & Stick system uses a system of adhesive technology and mechanical fasteners. This is a safer technique than the use of a conventional process such as hot mopping which can be extremely messy and dangerous on steep roofs. This is because hot tar can run down your walls and its composition contains the threat of harmful fume exposure. No-one wants to compromise the safety of one's employees and the safety of this system provides the peace of mind you need.
Tag & Stick Roof Underlayment Experts In South Florida
Tag & Stick adhesive underlayment is the best choice for steep roofs. The one-step application process is an all-round safety benefit and will also save you time and money on labor. With a wide range of options and sizing dimensions to choose from, Tag & Stick offers is the best choice when it comes to an underlayment system for your steep roof.
---