Save On Install Time With Adhesive Roofing Underlayment Products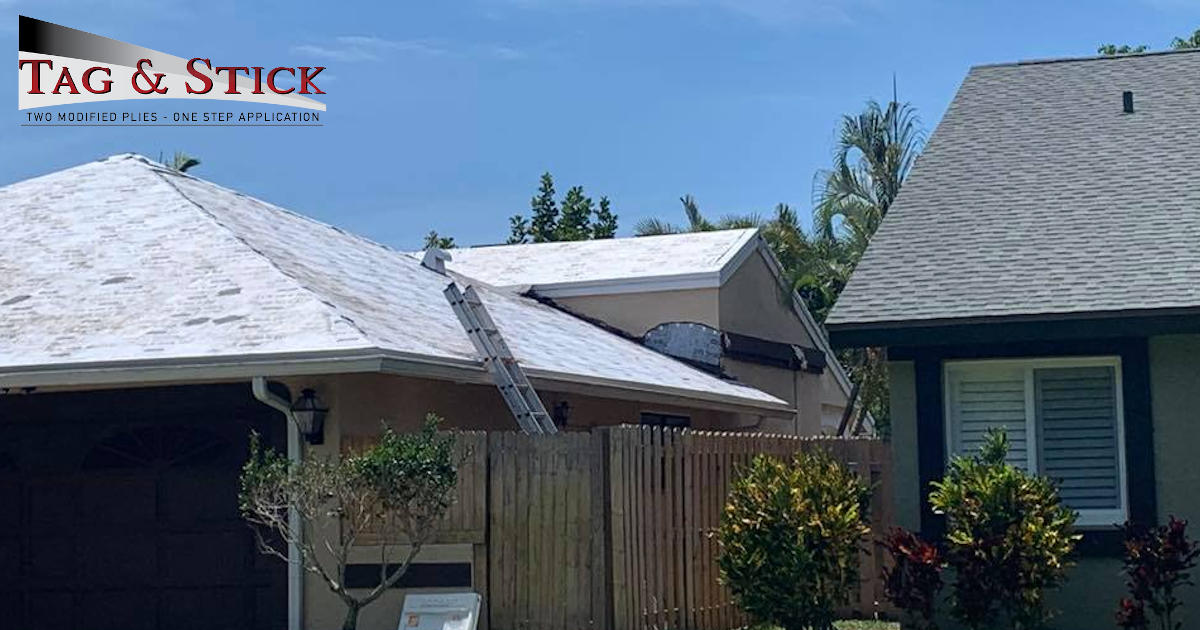 Reading Time:
3
minutes
As with many industries, the roofing industry is evolving. Many roofing contractors are turning to new methods to save time on installation, but also to offer customers the best alternatives when completing a reroofing project or installing a new roof.
Products like Tag & Stick offer contractors more flexibility both during installation and after. For contractors that want to offer their clients the best quality work, protective roofing underlayment products like Tag & Stick are proving to be a success.
What Is Tag & Stick?
Tag & Stick is combination of self adhered & mechanically attached underlayment system that protects the roofs structure against water damage. It's a two-ply, single application system that incorporates self-adhering technology over a mechanically attached portion which makes it an ideal protective underlayment system for new roofs and reroofing. It is a revolutionary approach to underlayment for steep slope roofs. The two layers consist of a 60-mil top layer and a 55-mil bottom layer.
How Does Tag & Stick Save On Installation Time?
Tag & Stick doesn't require multiple application methods like other roofing underlayment products.
Conventional systems require laying the base sheet and thereafter, returning to install the cap sheet. In this case, the dry in, metal, and cap sheet can all be done at once and on average you can make two fewer trips to the job site. It is not necessary to prime the deck. This cuts down on labor costs and time.
The complete process from preparation to installation is noticeably reduced due to the nature of the product.
Essentially, this step only involves one step as opposed to other application systems. The first of the two-ply layer is mechanically attached to the roof deck. The second layer is then adhered to the first layer. The pressure created from combining these layers allows for adhesion where both layers are laminated together. Deck priming and back nailing cap sheets are not necessary, so you don't need to make multiple trips to the job site.
Why Should You Use Tag & Stick?
There are many advantages to using Tag & Stick as an underlayment system. Cutting project time is, of course, a massive factor, as well as being able to save your client costs. But these aren't the only reasons why roofers are turning to this alternative practice:
Versatility

The mechanical attachment combined with the self-adhering technology offers two-ply protection. Priming is not necessary, and should you need to do a reroofing in the future, removal of the system won't damage the roof because it is not applied directly. It can be installed on steep-slope roofs such as tile, metal, clay, slate, and shingles. Because it works with the roof's current flashings, it is even easier to use during a reroofing project.

Long-Lasting

The composition of reinforced fiberglass and asphalt flux makes this product extremely durable. To further offer your clients comfort, Tag & Stick comes with a 25-year limited warranty. Wind uplift is also minimized and according to the South Florida Building Code, it meets wind uplift code requirements.

Safety

Using Tag & Stick is much safer than application methods like hot mopping which means no potential burns, mess, and damage to your client's walls, etc. Your customers and your staff are protected from exposure to health-threatening fumes that come with these dangerous methods.
Homeowners undertaking a roofing project will want to keep costs as low as possible but still, expect high-quality work. They will also likely want this to be completed in as little time as possible. Tag & Stick takes care of these concerns while ensuring that you as the roofing contractor do not need to compromise on workmanship in any way. The client is happy because the process becomes shorter, and you're able to offer them the assurance that you have completed the job to their satisfaction.
Roofs never rest and neither do we! Call Tag & Stick today at 954-255-3107.
---