Design Professionals
A complete roof design underlayment solution to match your roofing project.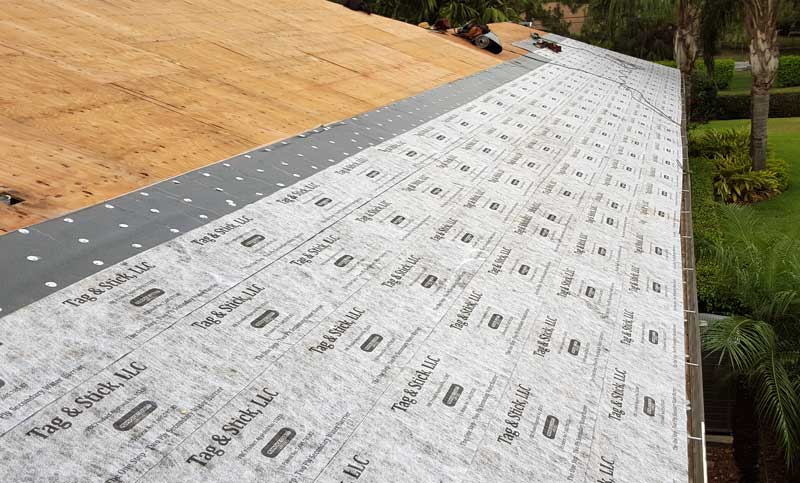 WHAT IS TAG & STICK?
Tag & Stick is a two ply secondary water barrier underlayment system. The Tag & Stick underlayment combines proven mechanical attachment with self-adhering technology. This product can be installed with any steep slope roofing product such as tile, shingles, metal, shakes, slate, or any other sloped roofing product that requires an underlayment. One of the many innovative features and benefits of this technology, is the ability to remove this underlayment when it's time to re-roof without damaging the sheathing due to the mechanical attachment. Developed with like and kind material for maximum uplift within the two-ply system.
TAG & STICK ADVANTAGES
Tag & Stick offers benefits not available with any of other products on the market.
Here's a few reasons to try Tag & Stick on your next project.
Two Ply Secondary Water Barrier
Installs faster than current two ply systems
Dry in, metal, cap sheet all at once
Average of two less trips per job
No priming of the deck
No back nailing cap sheet
Removable in the future
No hot tar, torches, or plastic cement
Better uplift than codified 30/90 hot mop
Two layers – top layer 60 mils, bottom layer 45 mils – 105 mils total
No kettle-no hot mop-no burns
Works with battens and all existing flashings
Will not delaminate the decking at re-roof time
FRSA/TRI Florida High Wind Concrete & Clay Tile Installation
Underlayment table for foam and mortar set systems and hip and ridge design pressures.