Design Professionals
A complete roof design underlayment solution to match your roofing project.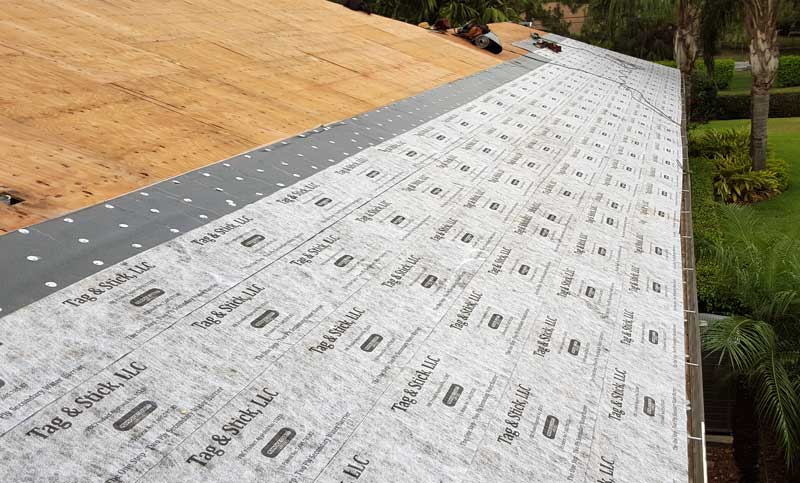 As a design professional, you no doubt understand the importance of structural integrity and the need for quality materials when completing a roofing project. This is particularly important when the project involves a sloped roof where the roofing underlayment plays a large role in the design's success.
Tag & Stick, a two-ply secondary water barrier underlayment system, offers an innovative solution to roofing underlayment by laminating two layers of like and kind materials to achieve a modified fiberglass application.
In South Florida, where hurricane season brings with it torrential downpours and extremely strong winds, a reliable underlayment solution is vital!
The Tag & Stick underlayment product combines a mechanical attachment with self-adhering technology to offer the ultimate solution for any sloped roof.
The Only Sloped Roof Underlayment Solution That Meets Code Requirements
Tag & Stick is the only roofing underlayment product that meets the South Florida Building Code requirements, as well as all the requirements stipulated in the Florida Building Code (Dade NOA # 18-0220.13, Florida Product Approval # FL15218-R2).
This qualification means that Tag & Stick meets all necessary standards and considerations – from wind upliftment to effectiveness on various roofing materials (from asphalt shingles to slate).
The product, which consists of self-adhering membranes, passed the necessary wind upliftment pressure test, as well the bell chamber test, both of which are vital for structures exposed to Florida's tropical hurricane climate.
This further confirms that the self-adhered underlayment offers higher wind upliftment resistance than single-layer mechanically attached underlayment options.
For more information on the technical specifications of Tag & Stick, you can give us a call on (954) 255-3107.
Advantages of Choosing Tag & Stick
Meeting Florida's building requirements is just one of the many advantages offered when choosing Tag & Stick as your underlayment roofing solution.
Another huge advantage is the underlayment's longer life-span when considering future re-roofing projects. The base portion of the MTP underlayment is mechanically fastened to the deck so that in the event that someday the roof may need to be replaced, it can be done without causing any damage to the underlying sheathing.
Other advantages include:
Designed as a two-ply secondary water barrier to work as a backup barrier preventing water intrusion, particularly beneficial in Florida's tropical climate
Tag & Stick consists of two layers – top layer 60 mils, the bottom layer 55 mils equating to 115 mils in total
Significantly faster installation than other two-ply systems
The installation process means that fewer trips to the job site are required than usual – saving you both time and money
No priming of the deck is required before installation
The product is removable in the future for your convenience
No hot tar, torches, kettle, and hot mops are required, meaning a much safer job site
Better uplift than codified 30/90 hot mop, and self-adhered materials over mechanically attached base sheets
Works with battens and all existing flashing
Dry in, metal, cap sheet all at once
Your Next Project's Complete Roof Design Underlayment Solution
With so many advantages, it is no wonder that Tag & Stick is Florida's top choice for roofing underlayment. With popularity spreading through the country, more and more designers are experiencing the value and benefits of our two-ply system that upholds expectations for structural integrity.
Tag & Stick provides a roofing underlayment product that allows design professionals to confidently complete their roofing projects. If your next project involves a sloped roof, look no further for a water barrier solution than Tag & Stick.
For more information on how Tag & Stick's innovative design and how the product meets building requirements, contact us at (954) 255-3107 or send us a message.
FRSA/TRI Florida High Wind Concrete & Clay Tile Installation
Underlayment table for foam and mortar set systems and hip and ridge design pressures.