Quality Roofing Products: Why They Matter For Long-Term Durability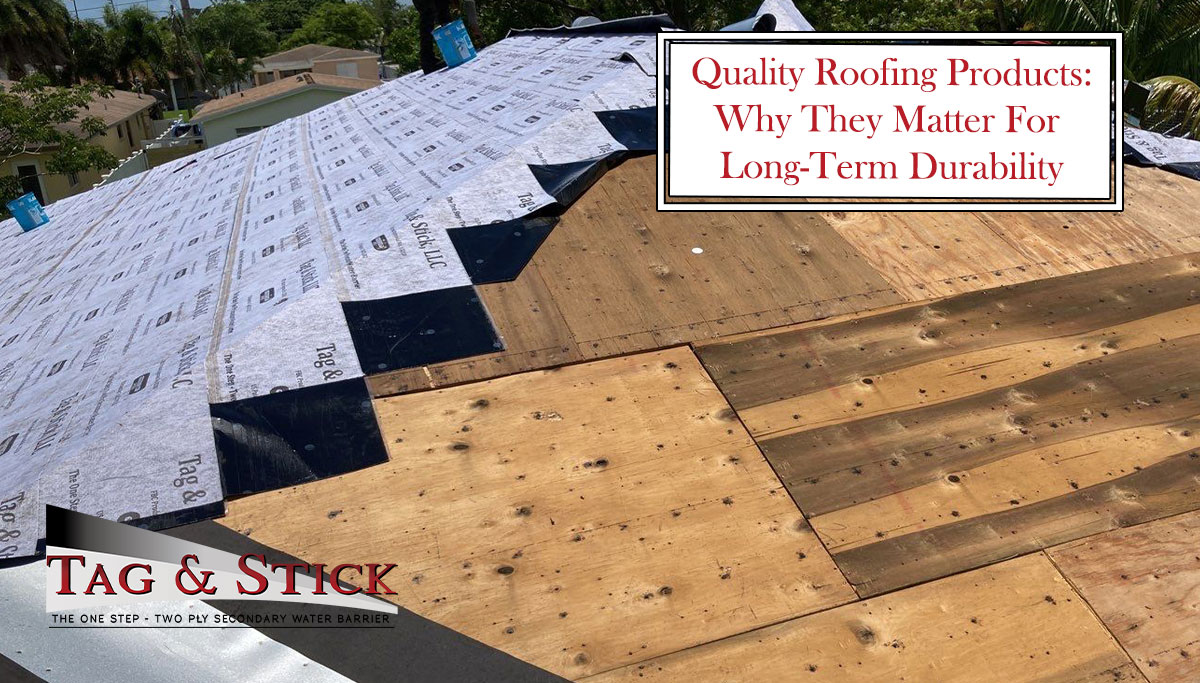 Reading Time:
2
minutes
When choosing materials to construct your rooftop, quality should always be your top priority. A well-constructed, durable roof not only offers protection against the elements but also has curb appeal.
Choosing quality roofing products may seem like a daunting task, but if you know what factors to consider, there are a variety of options available.
What You Should Look For In Roofing Materials
The roof is the largest part of your home. It plays a vital role in protecting the building and your assets from the elements. Look for the following qualities when choosing your roofing products:
Strength
The roof is your home's first defense against the elements. It needs to be constructed of materials that will not easily crack, blister, or tear.
Wind Resistance
Roofing materials must stay in place, especially during intense Florida winds. This is especially vital for roofs with a steep pitch, which are vulnerable to strong wind damage.
Water Resistance
Roofing materials need to be water-resistant. Exposure to moisture can weaken the roofing materials, leaving the roof structure vulnerable to breakages.
Benefits Of Using Quality Roofing Materials
While it may be tempting to purchase cheaper alternatives, there are several key reasons why you should always prioritize quality roofing materials:
Durability
Quality roofing materials are known to last longer and require less maintenance, repair, and early replacement. A durable roof translates into long-term savings as well as peace of mind.
Superior Protection
A roof's primary function is to protect the building, occupants, and assets from the elements. High-quality materials have better sealing properties. They also offer superior protection against leaks and water seepage that cause structural damage, wood rot, and mold growth.
Curb Appeal And Resale Value
The roof is a very prominent visual element of any home. Quality roofing materials, available in a variety of colors and styles, not only function well but also look appealing. A visibly appealing, well-maintained roof boosts the market value of the home.
Warranty
Quality roofing materials often come with extended warranties and reliable customer support. This gives the homeowner peace of mind if any manufacturing defects occur.
Why Only Professionals Should Work On Your Roof
Never be tempted to hire amateurs for roof repairs. There are several reasons why only professional roofing contractors should install or maintain your roof:
Expertise
Professional roofing contractors have the knowledge and experience to work on most roof types. They are also knowledgeable and familiar with the Florida Building Codes that govern roof installation.
Correct Equipment
Professionals have access to all the necessary tools and equipment to do the job right the first time. They also have the necessary safety equipment like harnesses, ladders, ropes, and safety shoes to minimize the risk of accidents or property damage.
Cost-Saving
Professionals build relationships with their suppliers and usually have access to quality materials at a better price.
Quality Roofing Materials You Can Trust
Long-lasting and easy to install, Tag & Stick LLC has stood the test of time. If you are looking for an energy-saving, durable roof with curb appeal, Tag & Stick roofing underlayment is the product of choice for South Florida homeowners. To learn more about the quality roofing products we offer, call today at (954) 444-4843.
---