The Importance Of Using A Quality Adhesive Roof Underlayment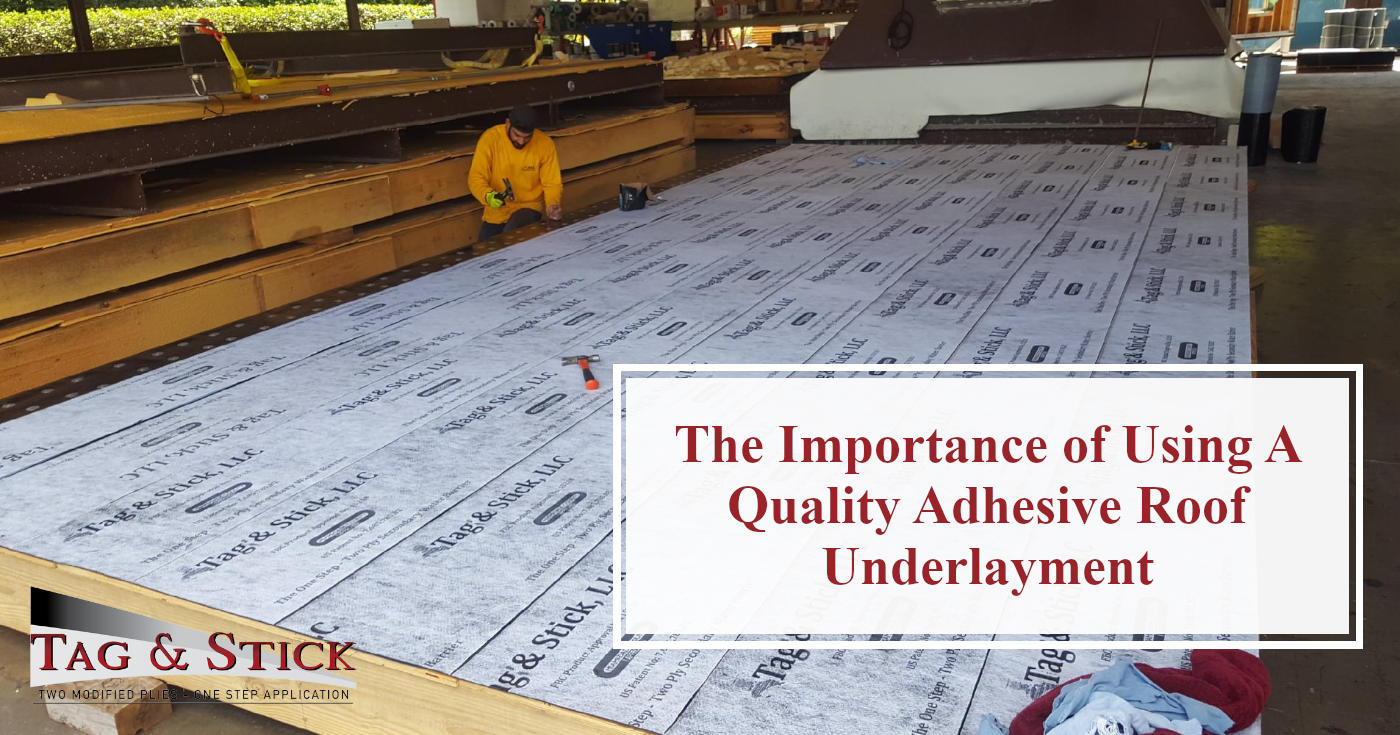 Reading Time:
3
minutes
How important is the quality of your roof underlayment? As Floridians, we cannot simply take this question at face value. Of course, generally speaking, quality adhesive roof underlayment is important in all cases. No one can really get away with skimping on their roof underlayment. Other layers to the roof cannot take the strain of even the most normal conditions on their own. Each layer of the roof has a vital role to play in securing what's inside the building, but this layer is more than a little important here in the more southern tip of Florida, where weather is a key factor to consider in any building material.
'Weather' Or Not You Like It
When it comes to your roof underlayment, it is very important to use the right product. It doesn't actually matter where you live; this is not the product you want to skimp on. Not that you shouldn't be careful when choosing all your roofing materials – it's the part of your home that keeps you dry and can affect the value of your entire home. But, add to this to the reality of Florida weather and you have every reason to ensure that the roof underlayment product you choose is of the highest quality.
Take This Self-Adhering Underlayment Advice
Tag & Stick's single step two-ply self-adhering roof underlayment is the only product of its kind to meet Florida's rigid wind uplift requirement standards. That is what you want in a product whether you are a homeowner or a roofing contractor – to get the best option for the conditions your home or build is going to be exposed to. For industry players, you know how to offer the best possible advantages to your client. But there are limited ways to offer better solutions that do not put extra strain on your resources. That is a major upside to Tag & Stick adhesive roof underlayment.
For All Around Roof Underlayment Quality
We can't only focus on how well it will do in a storm. We need to talk about how Tag & Stick does with normal wear and tear, and also about what other valuable properties it comes with. Made with a reinforced fiberglass matt, soaked with modified asphalt, it is also self-sealing. This makes it great for the day to day humidity levels as well.
Get The Best Two-Ply Single Step Roof Underlayment
Each layer serves to protect you and the life contained within your home, and during South Florida's hurricane season, this is especially important. With that being said, each layer on its own is not enough to do the whole job. Think about the shingles or tiles. There are obviously gaps at the joints and on the edges that will offer little to no protection from water, while decking may be damaged by any water that comes in, leading the way for rot and mold to grow. What you put in between as underlayment counts, a lot. Tag & Stick is mechanically attached right to the decking, and the roof covering is adhered directly to the underlayment. This means far fewer places for water, or wind, to get in and do damage.
Offering Better Cover All Around
If only the need for quality roof underlayment was limited to protecting our homes, at least then we could just hope we made the right choice. But, keep in mind that insurance may have something to say on the topic as well. So, at the end of the day, it is about what will make Florida building regulations happy, your insurance company happy, and what will leave your home or building more protected. Tag & Stick has your roof covered all around.
Quality Self-Adhesive Roof Underlayment Is Your Best Option
If you're in the market for a new roof underlayment, you have come to the right place. The benefits of Tag & Stick will knock your socks off while keeping your top on–in a storm, during a roof inspection, and during an evaluation. Engineered as an answer on how home protection and roofing aims can be better achieved with much less effort and risk, we don't simply meet these requirements by accident. We designed our product to meet them. Finding a Tag & Stick distributor through our site is easy. Ready to learn more? Contact us today at 954-255-3107
---