Tag & Stick vs. Other Roof Underlayment Products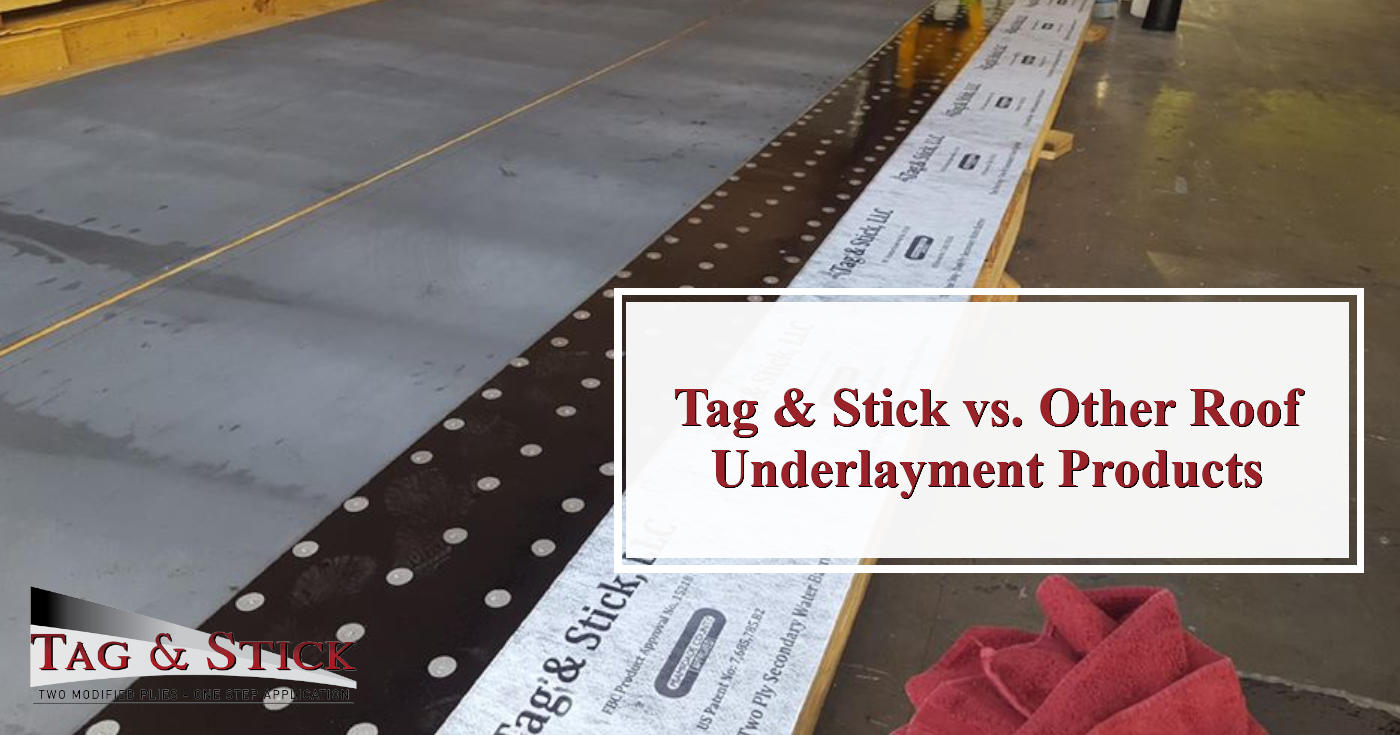 Reading Time:
3
minutes
Florida homes need tough roofs that are able to withstand hurricanes, intense heat, and sudden downpours. Top quality underlayment is a good basis for a hard-core roof that will resist the forces of nature.
Tag & Stick is a revolutionary self-adhered roof underlayment that is superior to the other underlayment products on the market, and it's fast becoming an industry go-to solution for roofers.
Here are eight reasons why more roofing professionals and designers are turning to Tag & Stick self-adhering roof underlayment.
#1 Quicker Application Time
Traditional roofing underlayment application is a multi-stage process that requires a number of steps which can include priming the deck, applying peel and stick over a base sheet, hot tar or hot mopping and back nailing cap sheets. All of this cannot be accomplished in a single site visit.
Tag & Stick is an adhesive underlayment that is applied using both mechanical attachment as well as self-adhering technology which can be done in a single site visit. This combination of application techniques cuts down on the number of steps needed to install the underlayment, which shortens installation time dramatically. Both the first and second sheets are mechanically attached. The pressure between them forms an adhesive that laminates the two plies to each other, creating a water-resistant, two-ply barrier. It is simpler, more effective and much faster.
#2 Thicker Equals Stronger
Tag & Stick underlayment is 115 mil thick reinforced fiberglass made up of two plies. The top ply is 60 mils thick, while the bottom ply is 55 mils. This is approximately twice the thickness of most other underlayment products on the market.
#3 Versatility – Any Slope Will Do
Steep sloped roofs limit the type of traditional underlayment that can be used. Tag & Stick can be installed on any degree of slope. It can also be paired with any roofing material – slate, shingle, metal or concrete & clay tiles. If you are reroofing, there is less need to replace the flashings as Tag & Stick will work with your existing roofing structures.
#4 Durability – Designed To Outlast
Tag & Stick underlayment is made from reinforced fiberglass and asphalt flux, a tough combination that is both durable and long-lasting to protect your client's roof.
Other underlayment products use less robust materials that are prone to getting damaged easily. Not all the products used in other underlayment installations comply with industry standards and will absorb moisture. Exposed underlayment is vulnerable to UV rays and the damage will more extensive and costly to repair when sub-standard underlayment has been used.
Damage can also be caused by foot traffic during the installation of roof-covering materials. The fastenings, such as staples, used to apply other underlayment products, have been known to cause the underlayment to rip in high winds.
#5 Cost-Effective Labor
Smaller teams are needed to install Tag & Stick underlayment. A smaller team will lower the cost of labor per roofing project and also enable you to potentially deploy more teams to work on different projects at the same time, raising your earning potential.
#6 Reroofing? No Problem!
IF you ever need to replace a roof and the underlayment, it is to your advantage to have used Tag & Stick underlayment. Tag & Stick underlayment is attached to the sheathing mechanically which enables it to come off easily without causing damage. With no sheathing damage, the costs involved in roofing replacement are significantly reduced, leaving a bigger margin for profit.
#7 Safe To Apply
The Tag & Stick application process is safer than the processes used for other underlayment applications. The risk of injury to your employees while using a kettle and hot mopping is high, as well as the potential for causing a mess or damage to the client's property. Hot mopping also gives off fumes that can be toxic.
#8 Superior Wind Uplift Ratings
Tag & Stick's wind uplift ratings beat all other systems hands down. As the only mechanically attached self adhered underlayment system to meet the stringent South Florida Building wind uplift code requirements, Tag & Stick is a logical first choice for your building projects.
As experienced roofing contractors, we developed the Tag & Stick product to be a versatile roofing underlayment solution that would solve many of the issues experienced while using other types of underlayment. If you would like to offer your clients a superior product that will be a cost-effective for you, contact us today at 954-255-3107.
---