Tag & Stick A Premium Roofing Products Supplier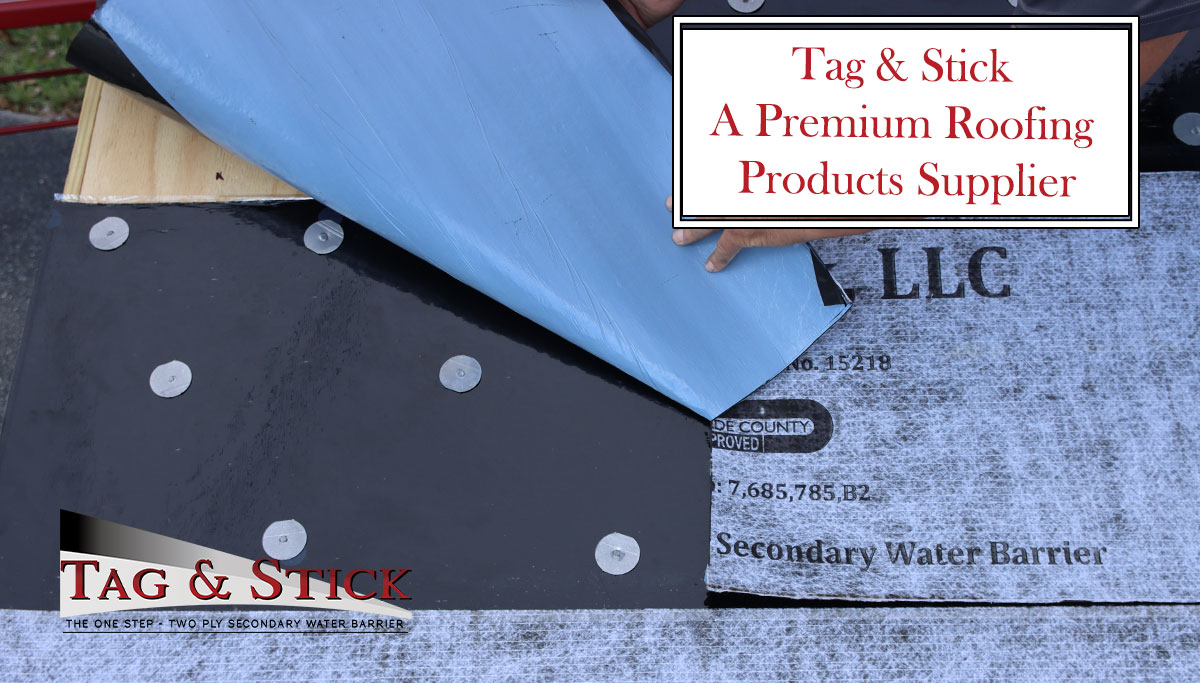 Reading Time:
2
minutes
Roofing underlayment is an essential part of your roofing system. What you need is a high-quality roofing product supplier like Tag & Stick: a revolutionary underlayment product in the roofing industry. This solution was made with both roofers and homeowners in mind.
Tag & Stick: Better Than Peel And Stick Direct To Deck
Peel and stick roofing underlayment is an alternative underlayment system that is self-adhesive. It's made from a layer of polyester that is saturated in a blend of rubberized polymers and asphalt. Although peel and stick underlayment systems are waterproof and durable in harsh weather conditions, they are known to damage the sheathing when removed. This affects the structural integrity of the roof, and is likely to cost you more time and money during a re-roofing project.
Tag & Stick is the product that helps solve this problem. You will see that this product makes your underlayment job much easier and more efficient. With self-adhering, proven mechanical attachment, Tag & Stick has a two-ply barrier system that ensures waterproofing and secure attachment.
With a secure water barrier between the roof and the underlayment, you can be confident that you're offering your customers quality products and workmanship. Purchasing your supplies from a quality product supplier will lead to satisfied customers and positive web reviews. This in turn will have a positive effect on your professional reputation, which will help your business in the long run.
The Benefits Of Using Tag & Stick
The benefits of roofing underlayment far outweigh the traditional underlayment products that have been used over the years. Traditional underlayment products require additional installation time, dangerous chemicals, and multiple layers of materials. Tag & Stick is different in many aspects:
Simple Application
Instead of multiple trips to the worksite, Tag & Stick has a one-step application process. This means installation can happen much faster than other underlayment systems. The application has two layers, which act as a stronger water barrier between shingles and the inside of the roof. There is no priming of the deck required.
Easy To Remove
Tag & Stick is removable without causing any damage to the decking, unlike other underlayment systems. No de-lamination will occur when it comes time for re-roofing. The dry-in, metal, and cap sheet can all be installed at once. Tag & Stick works with all existing flashings.
Safe
No kettle or hot mops are required, which prevents any burns from occurring. Hot tar and torches are not required. This is a safety concern when using traditional underlayment systems.
Hurricane Protection
It has better uplift than the hot mop process, which is a factor that needs to be considered when you live in a hurricane-prone location.
Find A Reliable Roofing Products Supplier
If you're looking for a reputable roofing products supplier, you've come to the right place. Our website has all the technical information you need to purchase underlayment products for your next roofing project. To learn more about Tag & Stick, you can reach us via our website at any time, and we'll get back to you with questions you may have to help complete your next underlayment project. You can also reach us by phone at 954-255-3107.
---