Roof Underlayment Worth Investing In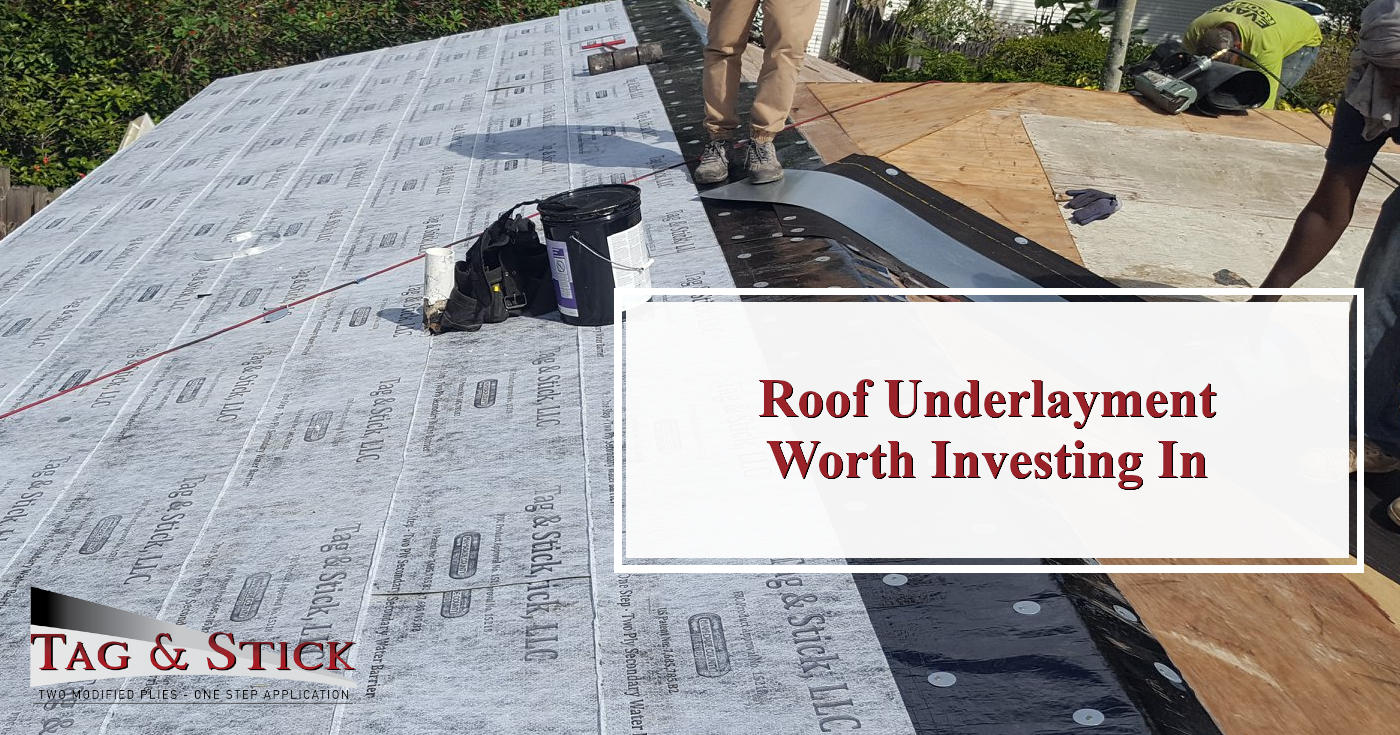 Reading Time:
3
minutes
Roof underlayment systems are vitally important when it comes to protecting your home from water damage. And in South Florida, we know that stormy weather can do some serious damage to your roof. Tag & Stick offers a superior underlayment solution compared to conventional systems. From the quick application process to its durable nature, here's why you should consider the Tag & Stick underlayment system for your new roof.
Why Is Underlayment Important?
A roof underlayment system provides the primary water leak barrier for your home. The system is sealed onto your home's decking and acts is the layer of protection if shingles or tiles happen to blow off your roof. Traditional underlayment systems are made from several layers of organic felt mat. The downside of these is that over time, this material becomes vulnerable to moisture and heat. A certain level of expertise is also required for the installation process.
This is where Tag & Stick comes in.
The Tag & Stick Advantage
Tag & Stick is a self-adhered underlayment system with unique adhesive. Its big advantage is that where conventional systems require a two-step application process, Tag & Stick only requires one step. And you don't need be concerned about the quality as it's a two-ply system. Tag & Stick consists of a top layer of 60 mils and a bottom layer of 55 mils. This adds up to a combined protective layer of 115 mils and forms a water-tight, two-ply barrier which will protect your home.
Quick Application
Tag & Stick not only installs faster than conventional underlayment systems, but it will help to save on labor costs in the process. The quick installation process is made possible as lengthy installation techniques such as back nailing or hot tar aren't required.
With Tag & Stick, the primary underlayment sheet is attached mechanically, which is followed by a second sheet. The two sheets form a unique pressure-sensitive adhesive that binds them together. The one-step installation process cancels out the need for a second site visit which saves on labor costs. It also requires less additional materials and relies on a smaller installation team. All in all, saving you time and money.
Hard-Wearing
Tag & Stick is very durable. The combination of asphalt flux and reinforced fiberglass makes it incredibly tough. Tag & Stick can remain in the dry stage over a couple of months while still retaining its water-resistant capability. It's also incredibly resistant to foot traffic in this stage which increases accessibility for any roof repairs that may be required. Tag & Stick meets the entire South Florida Building Code list of requirements and is the only underlayment system to do so.
Great For Steep Roofs
Steep roofs can come with their challenges when it comes to the underlayment process. The good news is that Tag & Stick can be applied to several types of steep slope roofing. Its versatile nature means that it can be applied shingle, tile, metal, and slate roofs. Existing flashings can stay in place and can also be easily removed if a re-roofing project is required. What's more, is that your roof sheathing will remain intact and therefore simplifies the replacement process.
Enjoy The Benefits Today
Tag & Stick adhesive underlayment has many great benefits. You can rest assured that your home will be well protected against stormy weather that may persist. With 25 years of experience when it comes to roofing contracting and manufacturing, Tag & Stick comes with a solid reputation. It's a versatile product that comes in many different sizes, with the option of a custom fit too. Call us today at (954) 255-3107.
---