Roofing Solutions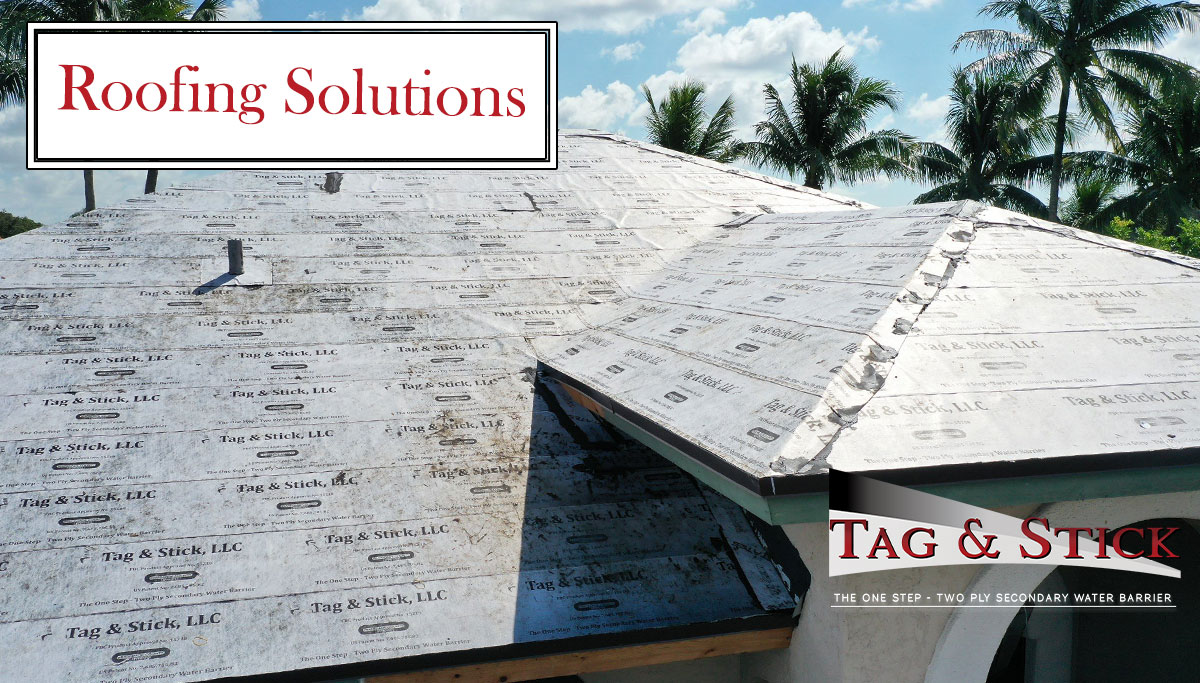 Reading Time:
2
minutes
A complete roofing system is more than what you see from the outside. It's actually composed of multiple layers, one of which is the roofing underlayment.
Roofing underlayment is designed to protect both the rest of the roofing system and the property underneath it. For this reason, it's important to take your time when choosing the right option for you.
Before being sold, roofing underlayment needs to meet certain requirements. So, before making your decision, Tag & Stick would like to share the Florida building code requirements with you.
Roofing Underlayment Building Code Requirements
Roofing underlayment plays a vital role in the success of a home's roof. For this reason, there are a few building code requirements that need to be met.
Effectively Repel Water
No matter the roofing material, wind-driven rain can get trapped under it. Not only does this place the roof deck at risk, but the home as well.
Trapped water can lead to the development of leaks, rot, mold, and water damage. While these may seem like small issues, they have the power to cause a lot of damage that can be expensive to fix.
With roofing underlayment in place, any water that gets through will drain from the roof instead of being absorbed.
Provide Extra Protection Against the Elements
As a resident of Florida, it shouldn't come as a surprise that roofing systems may experience wind upliftment.
Unfortunately, some roofing materials are more susceptible to wind upliftment damage. When this happens, the roof deck is left exposed to the elements and stands the risk of water damage.
Help Reach the Roof Fire Target Rating
The choice of roofing underlayment is important, especially for your roof's fire rating.
When your roof is evaluated, the choice of roofing underlayment plays an important role in the roofing system achieving its target rating. While most underlayment options provide a similar amount of smoke protection, the flame protection may vary.
A roofing system can be rated an A, B, or C, where A is the most fire-resistant and C is the least.
Protect the Deck During Installation
Unless you've gone through the re-roofing or replacement process, you may not realize how long it can take to complete.
While the roofing materials should be installed as soon as possible, it can take days, weeks, or even months! During this time, your roof deck will be left exposed to the elements.
With Tag & Stick roofing underlayment in place, your roof deck will be protected both before and during installation.
Why Tag & Stick Should Be Your Top Underlayment Choice
There are several good roofing underlayment options out there, making choosing just one a difficult decision to make. So, let's take a look at why Tag & Stick should be at the top of your list.
It is made up of two layers of extremely strong products making it twice the thickness of its competitors
Its one-step process of installation makes it quick and easy to install
Being mechanically fastened to the roof deck makes it easy to remove without damaging other roofing elements
The products and thickness make it possible to remain in the dry stage for months without losing its water-resistant qualities.
Trust Tag & Stick to Be Your Roofing Underlayment Solution
We understand that choosing a roofing underlayment may be an overwhelming process. However, you can't go wrong choosing Tag & Stick for a solid underlayment solution.
So, call us today at 954-255-3107 today for more information. We'd love to hear from you!
---