How Often Does Roofing Underlayment Need To Be Replaced in Florida?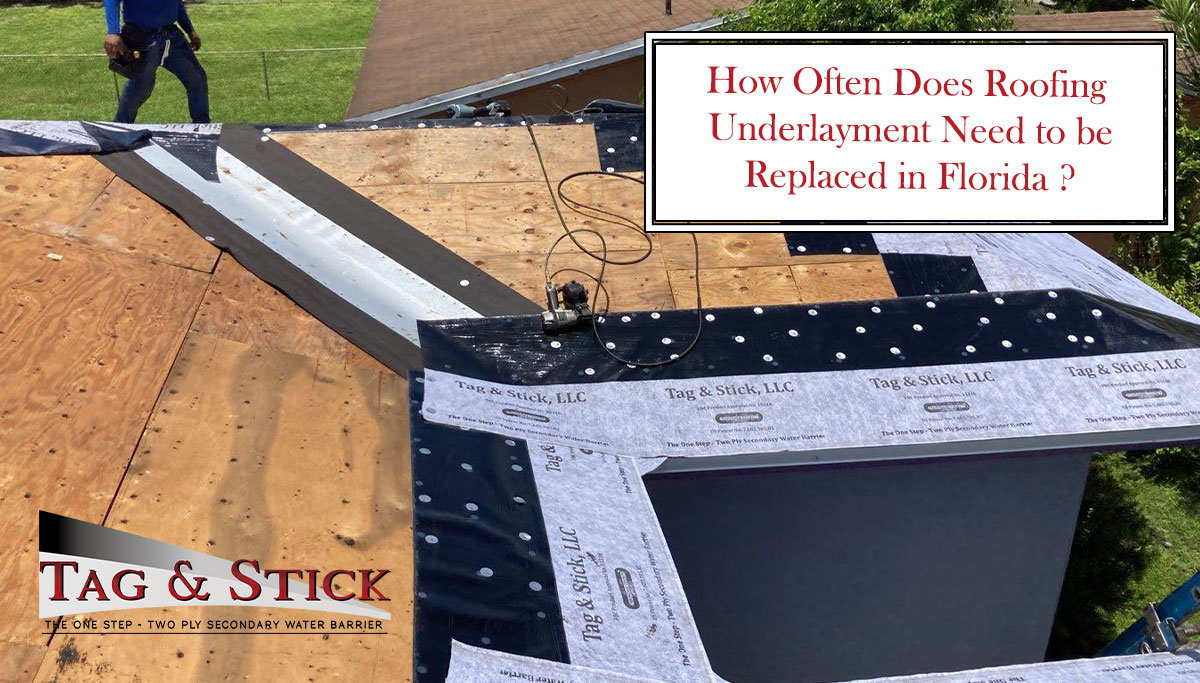 Reading Time:
3
minutes
Roofing underlayment is an important part of your roofing system. Acting as a water barrier, a quality underlayment will help to protect and insulate your roof for many years to come. Over time, your underlayment will begin to wear and will need to be replaced. So how do you know when it's time to replace your underlayment? It's not like your underlayment is visible to the naked eye. And does the Florida climate impact your underlayment's longevity? Here are some guidelines to help you assess if it's time to replace your roofing underlayment.
First Things First: Why Underlayment?
Underlayment creates a critical layer of protection for your roof. A quality roofing underlayment will act as a waterproof barrier throughout life of roof. If your roof covering has a is damaged, your underlayment will continue to protect home. One thing about South Florida is that our summers are hot and humid! The good news is that underlayment minimizes any heat gain.
How Long Does Underlayment Last?
Now that you know why you need it, let's have a look at how long underlayment lasts. A lot has to do with the type of underlayment you have installed, as well as the roofing covering you have.
The Problem with Inferior Underlayment
Traditional underlayment makes use of cheaper asphalt composites. A substandard underlayment system like this can last you as little as eight to ten years. Yes, this may save you money upfront, but not in the long run. The problem is that you'll need to lift your entire roof to replace the underlayment. This can cost a fortune, and you may have well gone for the higher quality underlayment. An inferior roofing underlayment won't provide you with an effective water barrier. This means that your home may be threatened in stormy weather.
New Generation Underlayment
A new generation of roofing underlayment combines various materials such as rubberized asphalt and fiberglass. It makes for a stronger underlayment. These often come with superior attachment options, and in some cases, self-adhering technology. A new generation underlayment system can last you in the range of 25–30 years, if not more. It all comes down to maintaining your underlayment on a regular basis. Choosing the right underlayment will keep your roof in one piece for decades to come.
The Tag & Stick Underlayment Solution
Tag & Stick offers a unique underlayment system designed for the Florida climate. Made out of reinforced fiberglass, Tag & Stick in a two-ply system. It combines mechanical attachment with self-adhering technology, which gives you that extra durability.
Designed For the Florida Climate
Tag & Stick is well suited for those hot and wet summers. The difference lies in the attachment. Traditional underlayment makes use of a hot mopping application. This is more dangerous and not environmentally friendly. Don't forget that hot Florida sun. Over time, it will bake away at your underlayment's sticking power. The continual expanding and contraction will weaken the underlayment's hold. Tag & Stick's mechanical attachment counteracts this, as it's not affected by expansion and contraction. The self-adhering technology adds that extra attachment to provide a water-tight barrier.
Daringly Durable
Tag & Stick is tough, really tough. This is due to its combined 115 mils of thickness. The combination of the reinforced fiberglass and asphalt flux makes it hard-wearing. Its added advantage is that Tag & Stick can be left in the dry stage for months without leaking. It's also resistant to foot traffic. It's the only roofing underlayment system that meets all the South Florida Building Code requirements. These include severe wind uplift code requirements. All these helps make your tag & Stick underlayment last longer than the competitors. Make sure that you're using a code-approved underlayment.
Should I Schedule an Inspection?
The big question is how often should I get my underlayment checked? A general rule of thumb is to schedule an inspection every 3 years. This will ensure that your underlayment isn't left for years on end without any maintenance. If you suspect a reason to do an inspection sooner. If you had a severe storm for instance, then it's best to get a roofer in immediately to assess your underlayment
Roofing Underlayment That's Designed for Florida
Tag & Stick is the superior roofing underlayment. From its durability to its advanced composition and adhering technology. It all comes down to a solid track record of over 25 years in the game. And with a product that is constantly developing, it's time to install the Tag & Stick difference. Make sure you use a Tag & Stick registered installer to get the Tag & Stick difference.
---