How Bad Weather & Hurricanes Impact Your Roof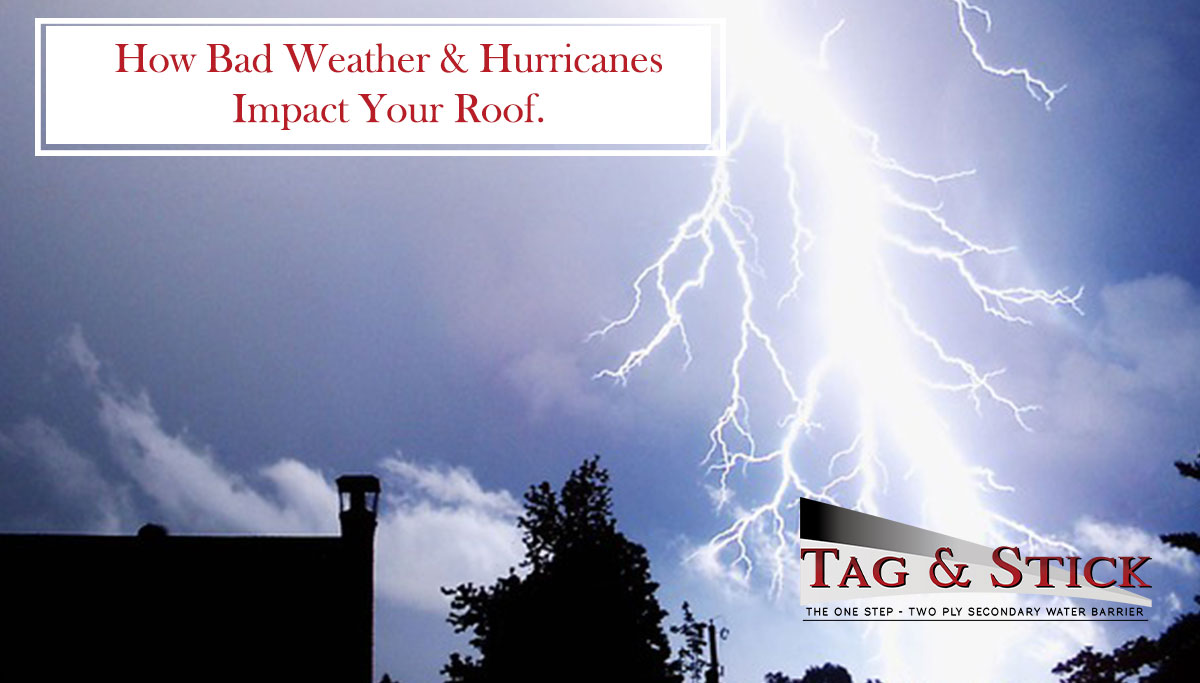 Reading Time:
3
minutes
Your roof is your home's first line of defense against the elements and with hurricane season now here, you need to be sure that your roof is prepared. There are a lot of components involve in a roofing system, arguably the most important being its underlayment. Roofing underlayment, like Tag & Stick, has water and wind-resistant properties to protect your home in the event of a lost or broken shingle or tile. Living in South Florida, we're no stranger to the damages that bad weather can have on our home's roof, so here's some advice on what you can do to minimize it.
Your Roof and Bad Weather
Bad weather, specifically hurricanes usually include strong winds and heavy rainfall leaving behind a trail of destruction. Some of which include:
Wind Damage
When a storm rolls in, strong winds can cause your roof to deteriorate faster. When we talk about strong winds, we're talking winds with speeds of a hundred miles or more! Wind with this kind of speed, the winds are strong enough to rip tile & shingles off of your roof, and if the wind's speed is high enough, there's even the possibility of damaging your roof's structural frame.
Yard Debris
Unfortunately, the larger the trees or bushes you have surrounding your home, the more at risk your roof is of being damaged during a hurricane. These winds that mother nature brings are able to cause branches and leaves to break off of trees and be thrown around in the air. This yard debris can land on your roof, adding extra weight that it's not designed to carry, or worse.
Heavy Rainfall
Intense rainfall from hurricanes can add unwanted weight to your roof and gutters. Depending on how well your roof has been maintained, the combination of strong winds and the force of this rain may cause your roof to leak. Missing or broken tiles or shingles allow water to seep into your home and cause water damage.
Damaged Attachments
Attachments like satellite dishes or gutters to your home or roof are at risk of being displaced during a hurricane. Not only is this a loss of properly to you but the attachment site now becomes a vulnerable spot in your home where water can enter.
Exposed Underbody
The underbody of a roof is the main surface that your tiles and shingles go onto. A hurricane may result in the underbody of your roof being exposed, leaving your insulation and other features of your home at risk of damage.
This wouldn't have to be a concern if you had Tag & Stick as your roofing underlayment option. So, let's chat about why that is exactly.
Tag & Stick: Why It Should Be Your Roofing Underlayment Choice
As mentioned before, hurricane winds are extremely powerful and are capable of, not only lifting a roof off of a home but tearing it apart. This means that your home needs a roofing underlayment option that will not be ripped off by upward drafts.
Tag & Stick is a fully adhering two-ply underlayment that meets the rigid regulations of wind uplift requirements in Florida. Not only that, Tag & Stick is the only roofing underlayment option able to meet these requirements!
Roofing underlayment is one of the most important layers of your roofing system, providing a waterproof layer of protection if a tile or shingle is lost. If roof tiles are blown off or part of the roof lifts, then the underlayment really is the last line of defense. With its ability to remain uncovered for months and still maintain its water-resistant capability, Tag & Stick can help keep your roofing structure dry and your family safe.
How Tag & Stick Can Help Prepare Your Roof For Hurricane Season
Tag & Stick has the durability and quality materials that can get you and your home's roof through this hurricane season. For more information or any other underlayment questions, please don't hesitate to give us a call at 954-255-3107.
---