Five Fast Facts About Tag & Stick Roof Underlayment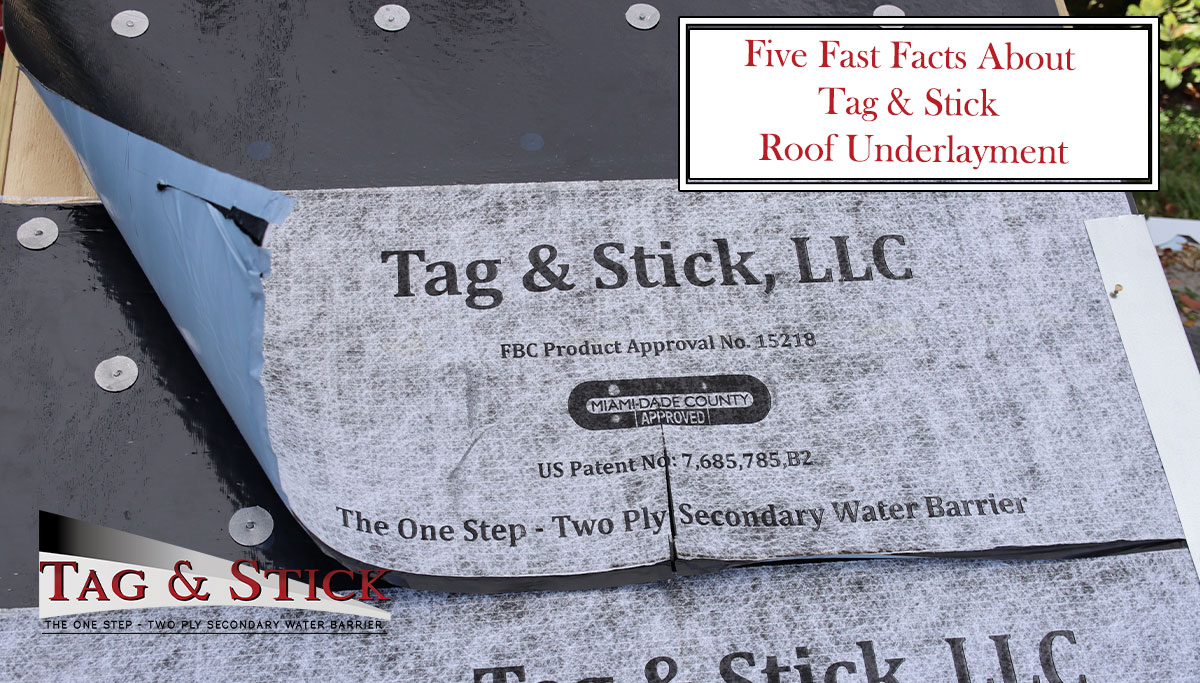 Reading Time:
3
minutes
As roofing professionals, we know how important it is to give your clients quality roofing materials. And this includes your roof underlayment choice. This is because your reputation as a professional is largely based on the materials that you chose to use.
The client's roof is their home's first line of defense against the elements. If something happens to the shingles or tiles covering it, they need to have peace of mind that the rest of their roof and home is still going to be protected.
Tag & Stick is becoming an increasingly popular roof underlayment option among professionals for a number of reasons. For now, let's take a closer look into five major benefits of choosing this roof underlayment option.
1. Tag & Stick Is Thicker Than Its Competitors
Tag & Stick is a two-ply water barrier roof underlayment system. Its materials allow for the combination of mechanical attachment and self-adhering technology to be used during installation.
It is made by blending reinforced fiberglass and asphalt flux to create two separate layers. The top layer is 60mils and the bottom is 55mils giving it a total thickness of 115 mils. This is almost double the thickness of competitors!
2. Meets All of the Necessary Requirements
There are so many roof underlayment choices that making a decision can be tough. However, Tag & Stick is unique in that it meets all of the necessary requirements and more!
This underlayment option meets the South Florida building code requirements. It is also the only water barrier underlayment system that meets all the stipulated requirements of the Florida Building Code (Dade NOA # 18-0220.13, Florida Product Approval # FL15218-R2).
3. Saves Time and Money
Did you know that Tag & Stick is installed in just one step? Unlike other underlayment options that require multiple site visits from roofers, this underlayment option only requires one.
This means that the installation process is both quick and easy. In the end, it saves both time and money without compromising the quality.
This benefits both the business and the client in a big way. Since time equals money, the client will be saving money while your business is free to accept other job offers. It's a win-win!
4. A Safer Installation Process
By eliminating unnecessary installation steps, Tag & Stick is also eliminating the dangers involved. Traditional roof underlayment options require processes like hot mopping to be completed a number of times.
This processes are extremely dangerous and put the roofer at greater risk of injury. By removing these steps, Tag & Stick creates a safer working environment. Roofers will no longer need to be exposed to high temperatures and health-threatening fumes.
The lowering of risk makes for happy employees and lowered insurance costs.
5. Can Be Easily Removed
A roof replacement is a costly exercise that is usually made more expensive by having to remove the roof underlayment. This process usually delaminates the sheathing when it's removed.
Since Tag & Stick is mechanically attached, it is not directly applied to the client's roof. IF there comes a point where it needs to be removed, it can be easily removed during a reroofing without causing any further damage or added costs.
Choose Tag & Stick for All Your Roof Underlayment Needs
A major part of a client's home is their roof and possibly one of the most expensive things to fix should something go wrong. This is why using quality products like Tag & Stick from the beginning.
If you can believe it, these are just five of the many proven Tag & Stick benefits. However, if you're still not convinced, please don't hesitate to give us a call at 954-255-3107. We'd love to assist in any way that we can. At Tag & Stick, roofs never rest, and neither do we!
---