Advantages of Tag & Stick Adhesive Underlayment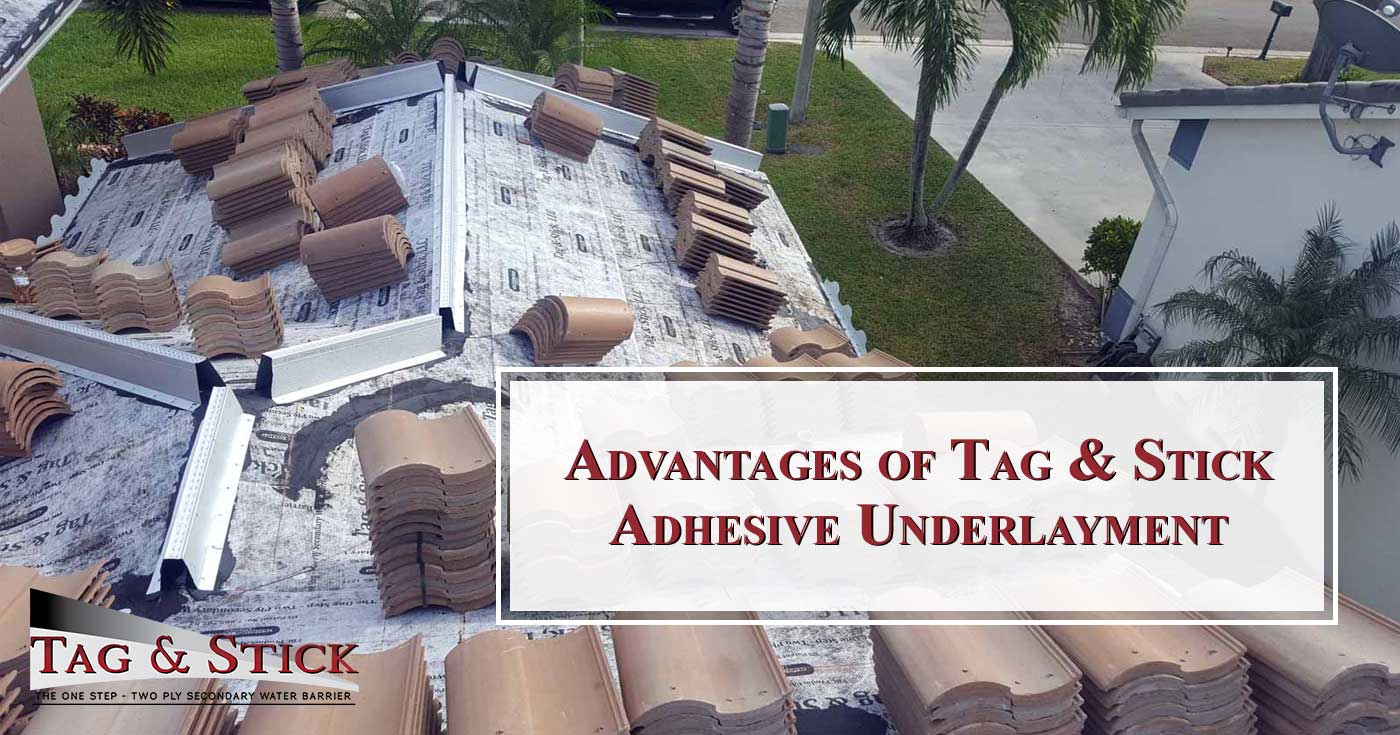 Reading Time:
3
minutes
Self-adhered, or adhesive underlayments are becoming an increasingly popular choice among roofer and design professionals. The principals of Tag & Stick carry more than 25 years of experience when it comes to roofing contracting and manufacturing combined. The Tag & Stick self-adhered underlayment system is a revolutionary product which comes with some great advantages. Here's why you should be considering the Tag & Stick system for your clients.
Versatile Two-Ply Application
Made of reinforced fiberglass, Tag & Stick is a two-ply underlayment system that merges a mechanical attachment technique with self-adhering technology. Comprised of a top and bottom layer of 60 and 55 mils respectively, these two layers offer a combined underlayment of 115 mils which makes it a competitively thicker product. This offers twice the thickness of competitor underlayments and serves to create a very effective two-ply water barrier.
Tag & Stick is incredibly versatile and can be installed on any steep slope roofing including tile, metal, clay, shingle, and slate. It also works with battens and all existing flashings which adds to its versatility as both new construction and re-roof situations.
Easy Application
Tag & Stick installs more efficiently than other underlayment systems which will save you valuable man-hours each day. A key advantage of Tag & Stick is that is doesn't require several installation methods such as hot tar, hot mopping and peel & stick over a base sheet. The Tag & Stick installation method is easy to follow.
The first underlayment sheet is mechanically attached to the deck. Following this, a second underlayment sheet is mechanically attached to the first sheet. The attachment of these sheets forms a pressure-sensitive adhesive which laminates them together. This creates a water-resistant, two-ply barrier. This effective one-step installation technique prevents the need for a second visit onto the site. The Tag & Stick system doesn't require any deck priming or back nailing cap sheets. It also relies on a smaller installation team as the process is simpler than hot mopping for instance.
Long-Lasting
Tag & Stick is incredibly durable due to its composition and thickness. The combination of the reinforced fiberglass and asphalt flux makes it tough and hard-wearing. Tag & Stick can be left in the dry stage for months without leaking and it will also be resistant to foot traffic. It is also the only underlayment system that meets all of the South Florida Building Code requirements including severe wind uplift code requirements. In fact, Tag & Stick has better wind uplift ratings than any other system installed over a mechanically attached base sheet.
If Removal Is Ever Necessary
Another great advantage of this system is that is can be easily removed IF during re-roofing might be necessary in the future, without causing damage to the sheathing. This is because Tag & Stick is not applied to your client's roof directly, it's mechanically fastened. Other conventional underlayment systems that are applied directly to the roof, cause the sheathing to delaminate during the re-roofing process. This damage adds to the overall bill due to the requirements of additional labor and new sheathing.
Safe To Use
Not only is it less labor-intensive, but Tag & Stick's use of mechanical fasteners and self-adhering technology makes it a lot safer than other application methods such as hot mopping. This safe application process will add to your peace-of-mind as your employees and customers won't be exposed to dangerous materials and won't be inhaling health-threatening fumes.
As you can see, Tap & Stick adhesive underlayment has some great advantages. With quick installation and a laminated, sturdy finish, the benefits are clear. Tag & Stick is the best option when it comes to choosing an underlayment for your client's roofs.
---